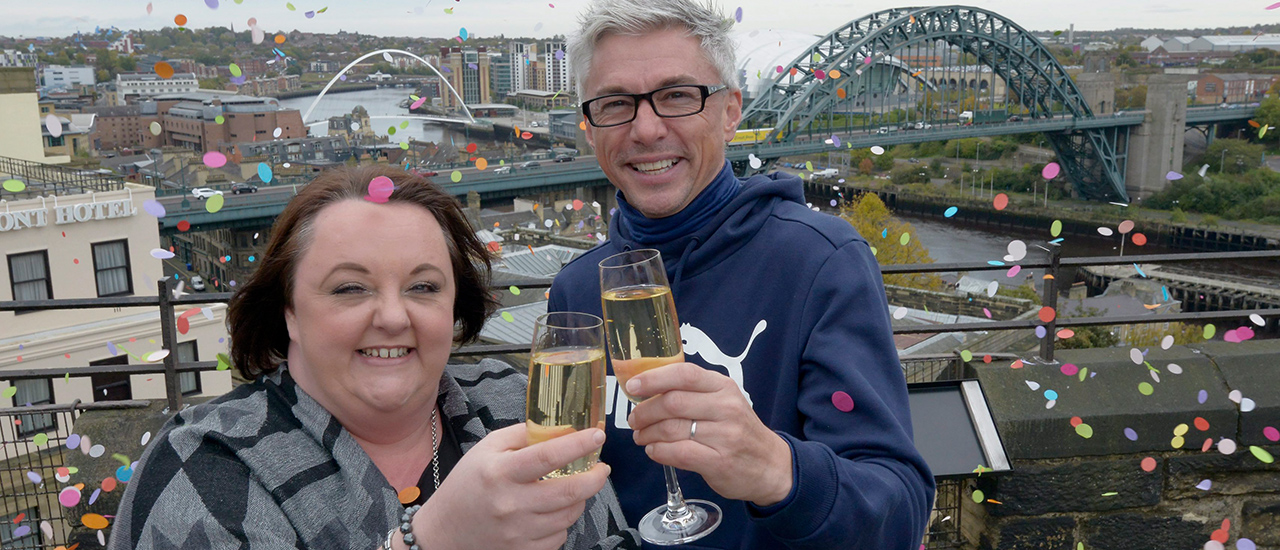 OUR LATEST WINNERS:
There were no winners this week.
---
The Draw Results for Sat 24 April 2021:
Match all 6 numbers in the correct order and the £25,000 could be yours.
---
Are you a winner?
Log in to see a summary of the tickets you had in this draw.
NEXT DRAW: SAT 2 DECEMBER AT 8PM
Join our recent Geordie Jackpot winners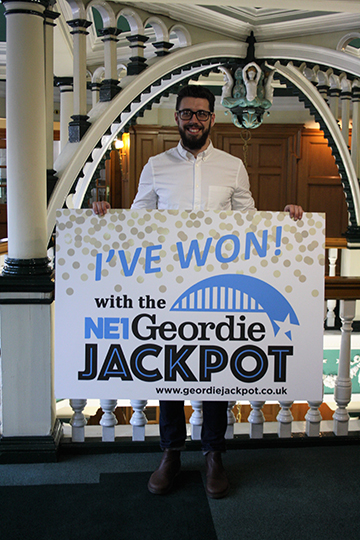 Andrew
I chose the numbers completely randomly, so my win was out of luck!
We had friends over at the time, so we celebrated with a few too many drinks.
The prize money will contribute to redecorating as my girlfriend and I just bought a new house.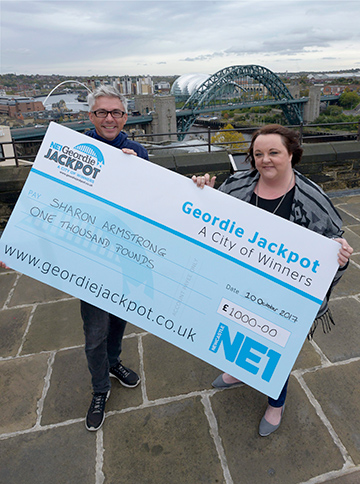 Sharon
I simply took the numbers of my date of birth for my ticket!
My partner and I couldn't believe it at first, but after I phoned NE1, I had to tell the whole family I had won!
We have put the half of the winnings in to savings for Christmas, and the rest will go on a fantastic cocktail night at the Alchemist!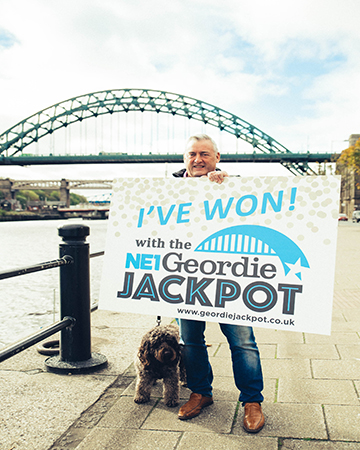 John
My numbers were totally random.
I was so delighted when I found I had won, my wife and I did a high five. I had already booked a holiday to Lanzarote that morning so the win virtually paid for it.
Regarding the lottery proceeds, the city could benefit from improved public seating, allowing people to better enjoy the city and everything it has to offer.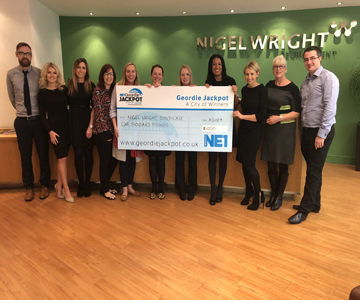 Nigel Wright Syndicate
When the Geordie Jackpot was set up, we all agreed it was a great idea because it is supporting local initiatives. I am glad we made the right choice to set up a syndicate.
It was school half term in Newcastle when we won, and almost half of our syndicate were on holiday, but when we discovered the prize was £1000, we were delighted! It's our biggest win ever!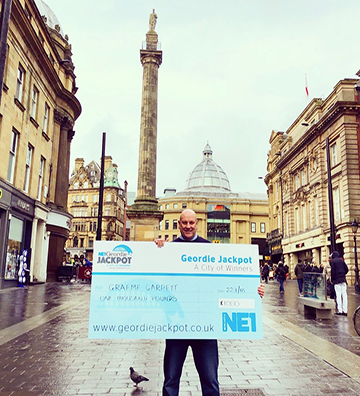 Graeme
I chose my numbers by a mixture of dates of birth and home phone number.
My reaction when I received the email saying I had won was WOW, I couldn't wait to get home and check it out.
I love the idea of investment going to Cash for Kids, I think what NE1 is doing for Newcastle is great.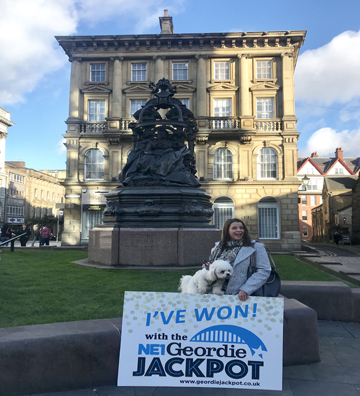 Fran
I couldn't believe it when I found out I had won, I was in total disbelief!
I have already spent the money on a trip abroad to Krakow, and some will go towards house renovations.
I would love to see the Geordie Jackpot help enhance the lives of the lonely, elderly, and provide fun activities for the kids.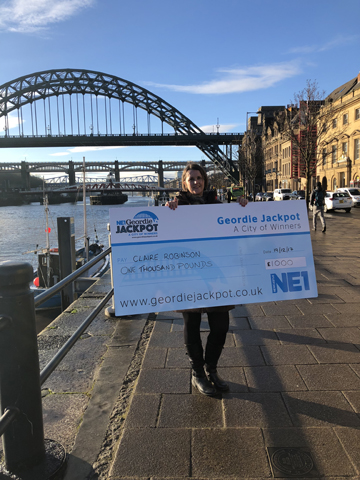 Claire
I used the telephone number we had when my husband and I first moved into our home 21 years ago.
We had just arrived back from a weekend trip when I found out while looking through my emails, I simply couldn't believe it.
I would devote the proceeds of the lottery towards further accessibility into the city center, as well as the street cleaning team, as it is a thankless task for the crew.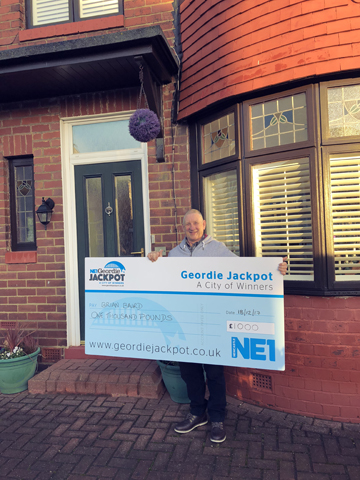 Brian
I didn't believe I had won at first, but when I finally spoke to NE1 and realised it was true, I phoned my wife straight away.
We are going to spend some for Christmas, but I insisted we save some for a trip abroad.
I would really like to see the Geordie Jackpot helping kids in the city centre.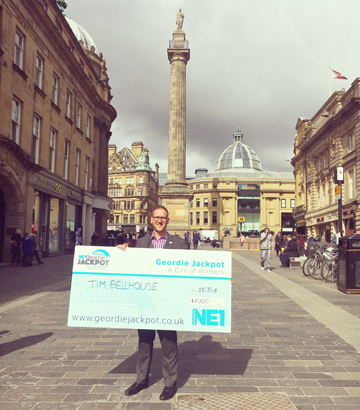 Tim
I used my wife's, sons, and daughters birthdays for my numbers.
I was in disbelief when I heard I had won at first, but I sure was happy to know it was real! We have already spent the prize in the holiday fund!
I am glad that Geordie Jackpot supports providing more activities like Screen on the Green and Quayside Seaside, as it sets Newcastle apart as a city.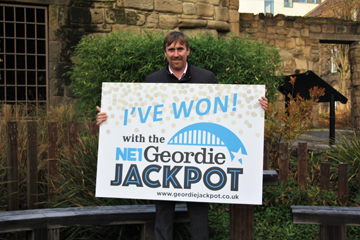 Paul
I bought 2 lines, one was my partner's birthday, and the other was made up from my former military regiment.
I couldn't believe it until I spoke to NE1! It was a lovely surprise.
My partner and I are getting married this year and we've already spent the money on wedding rings.
NE1 does great things for the city centre, I think the money should be spent on bringing more events to Newcastle.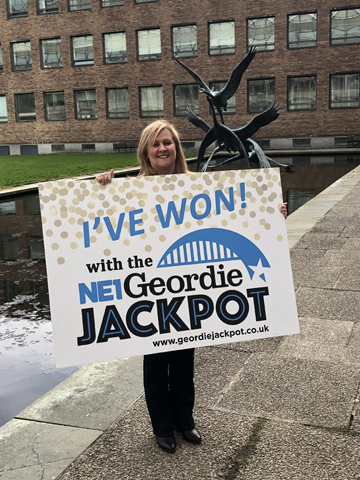 Christine
I played the Geordie Jackpot with a lucky dip. I gave some of my winnings to a dog charity in Romania who I got my gorgeous dog from. The rest was spent during my recent holiday to visit family in Australia.
I would like the proceeds to be spent on more of the excellent projects already delivered by NE1.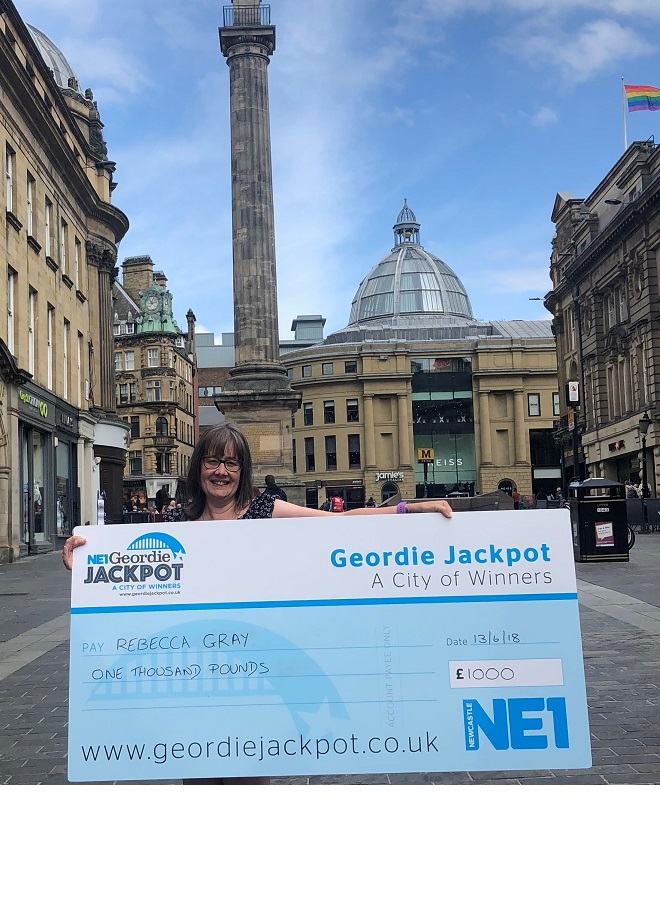 Rebecca
I picked my numbers from my family birthdays when you added all the numbers together.
It was a total shock to win - the last thing I won was an Easter Egg raffle when I was in high school. I will be spending the money on a city break to Manchester to coincide with the Bees in the City sculpture trail as it's my home city.